EPISODE 66 | RELEASED June 26, 2020
Treating the Whole Dog | Dr. Lori Cesario Deep Dive
Think veterinary oncologists are just about chemo, radiation, and surgery? Well, Dr. Lori Cesario is about those and much more. This is a fascinating glimpse into the mind of an oncologist who treats the "whole dog."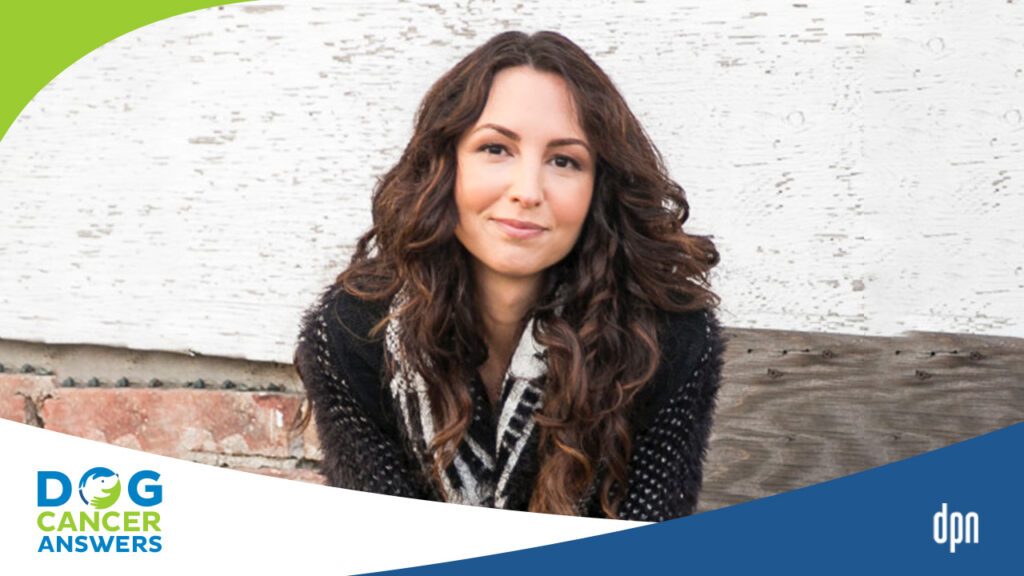 Subscribe to our YouTube Channel
Dr. Cesario explains the unique perspective her specialty brings to the table, not just in treating cancer, but in evaluating your dog's overall condition and quality of life. And as a specialist, she has some very creative tips and tricks for following the latest research into pain relief and CBD oil, and even getting traditional chemo drugs at a lower cost than you might expect.
Links and Resources Mentioned in Today's Show:
You can reach out to Dr. Lori Cesario and find out more about her Roadmap to Dog Cancer at her website: https://www.caninecanceracademy.com/
Here is an article about the Cornell University study on hemp oil/CBD: https://www.forbes.com/sites/julieweed/2018/12/13/cornell-university-research-could-help-hemp-entrepreneurs-and-make-dogs-feel-better/#75e3a3bb783c
Here's a study about cold laser therapy for pain: https://pubmed.ncbi.nlm.nih.gov/10955339/
Here's an article about acupuncture for senior dogs: https://animalwellnessmagazine.com/acupuncture-senior-dogs/
The CBD researcher at Auburn University College of Veterinary Medicine that Dr. Cesario mentioned  but couldn't remember the name of is Dawn Merton Boothe, DVM, PhD, DACVIM (Internal Medicine), DACVCP. You can contact her through this website: https://www.vetmed.auburn.edu/veterinarians/clinical-labs/ and request cannabinoid product monitoring by clicking "Cannabinonid Monitoring" and asking your veterinarian to submit the form.
The name of the compounding pharmacy Dr. Cesario uses is Stokes. https://www.stokespharmacy.com/
Drugs mentioned in today's show: Palladia, Leukeran, Chlorambucil
The name of the pet insurance company Dr. Cesario mentioned is Trupanion.
[00:00:00] >> James Jacobson: >> Dr. Lori Cesario: , thanks for being with us today.
>> Dr. Lori Cesario: Thank you for having me. I'm excited to be here.
>> James Jacobson: So you are one of the few oncologists there are in the United States. There are 6 million dogs diagnosed with cancer a year in the U.S., right?
>> Dr. Lori Cesario: Mmhm.
>> James Jacobson: And how many practicing oncologists are there in the US?
>> Dr. Lori Cesario: Probably a few hundred, but definitely not enough. There's always a huge need for more oncologists.
>> James Jacobson: It's such a crazy gap. Do you have any idea why there are so few oncologists and so many cases of dog and cat cancer?
>> Dr. Lori Cesario: Yeah, there are just so many dogs getting diagnosed with cancer these days, unfortunately, and there are a lot of vets that go to vet school, but after vet school, you can decide if you want to go on to specialize. And there are so many different specialties. There's dentistry and cardiology and ophthalmology and dermatology and anesthesiology and surgery and oncology. And so when you get to what anyone's true passion or a specific interest is, they're just going to be far fewer people that really have a passion for oncology.
>> James Jacobson: Well, how did you discover your passion for oncology?
>> Dr. Lori Cesario: When I was in vet school, we were working our way through all of the different parts of medicine and oncology came up and I just really got very interested in it, how you make a diagnosis and the different types of cancers, the different types of treatment. So when it just really clicked in the classroom setting, I made sure to schedule an externship with an oncologist in New Jersey. The next time I was home for a break, and that was with Dr. Craig Clifford, he's still practicing on the East coast.
And during that week with him, I was just so impressed. He just has such an amazing ability to explain the diseases to clients. To put their minds at ease because obviously when you have a dog or a cat that has a cancer diagnosis, it's scary. It's confusing. It's overwhelming. And you don't know if you're making the right decision. You don't know even if you should be treating your pet with cancer, you just want more information. And he just did such an incredible job at explaining cancer, explaining the options and walking them through the different options and putting their minds at ease and just developing a really amazing relationship with them that they felt supported.
So I was really impressed with that, but it was just also so rewarding that you can take this mass on the side of a dog and stick a little needle into it, get some cells and under the microscope a minute or two later, you can make a diagnosis and formulate a treatment plan. So that part of it I thought was just really cool and really rewarding.
Or you have a dog with lymphoma that's just quite sick from his disease and you start treatment. And within 24 or 48 hours, if he's responding as planned, he just feels so much better.
So just those sorts of rewarding things I also really kind of fell in love with.
>> James Jacobson: Sort of the quick results that you see from the diagnostic testing or from chemo in his work.
>> Dr. Lori Cesario: Exactly. Yeah. I am a results oriented type of person. Okay?
>> James Jacobson: Well that must've been really rewarding, so
>> Dr. Lori Cesario: Yeah.
>> James Jacobson: How many cases do you see a week right now? You're located in Northern California.
>> Dr. Lori Cesario: Actually, I was located in Northern California before my current job. And right now I'm in Southern California, North of LA.
Right now I'm working part time. So we don't have a terribly busy practice, but I'll probably see maybe 10 or 11 cases a day. And those are between rechecks and drop offs, kind of chemo appointments and new consults. So kind of a mix of everything.
>> James Jacobson: What do you think the biggest misperception of veterinary oncologists is?
>> Dr. Lori Cesario: That is a very good question. I think one thing that people don't realize, this kind of came up in conversation once with a friend of mine. I was just describing to her how, you know, it's hard to give bad news. It's hard to get bad news and it's difficult to give bad news. And you know, when you're going through your phone calls and you're giving results, and sometimes you get to give good news, but often you don't, and it's really difficult to make those phone calls and honestly, you many times have to just prepare yourself because you want to be able to tell people, you know, have quote unquote the right way, and you want to prepare yourself [00:05:00] emotionally because it's very difficult and we feel that emotion, too. And I was just describing to a friend of mine, how sometimes you just have to kind of, you know, psych yourself up for that next phone call because it just gets so difficult.
And she was just saying that her sister had just been diagnosed with cancer and she didn't ever think about how the doctor might feel having this conversation just because, you know, yeah, it's your job, but we are people and we have emotions and having a pet or a patient feel sick or giving bad news and seeing someone that loves their dog or cat get upset, you know, that's very difficult for anyone.
>> James Jacobson: How do you steel yourself to do it? What kind of prep do you do before you make that phone call?
>> Dr. Lori Cesario: Sometimes, you know, you just prepare yourself mentally and go over the conversation. Sometimes just honestly, a couple of deep breaths.
Yeah. It seems a little bit silly honestly, to say it out loud, but yes, sometimes after a long day, those conversations are difficult. So just kind of talk yourself into it.
>> James Jacobson: Paint the picture. Like, do you have a small office in the practice where you close the door? Just paint the picture for us, what it's actually like.
>> Dr. Lori Cesario: In the clinic that I work at, there is a big doctor's office where we all have our little kind of tiny cubicle and everyone was in there, you know, pre COVID. But now I sort of use the tiny office that used to be physical therapy. So I'm in there by myself. Slightly more protected than everywhere else, but yeah, so it's nice because it's quiet, it's private, the lighting's dim, so it's kind of calm and it's easier to focus and have those tough conversations and listen really attentively to clients and go through all of the options.
'Cuz before it was nice because when clients would come into the office, I was able to in the exam room, go over all the options and write everything on a whiteboard. And clients usually appreciated that because a lot of people are visual learners. They need to see everything.
So over the phone, it makes things difficult because you're already talking about things that are very emotional. It's hard to comprehend. And then you're trying to do it over the phone as opposed to being able to see the options written on a whiteboard.
So I think for me, even having more of a quiet space where I can think through and make sure that I'm really explaining things as good as I possibly can. It's helpful too.
>> James Jacobson: So before was most of these difficult conversations done in person, and now it's done telephonically.
>> Dr. Lori Cesario: Yeah. Now it's all done over the phone and before, yeah. Many of them were in person, but then afterwards, if we see the patient for a consult, we talk to the client, we go over information about the disease process, all of the possible outcomes with workup and different treatment options. And then we say, 'okay, well, if we want more information, these are the tests that need to be done.' And sometimes we'd take more samples or do more tests. And then once we get the tests back, then the next day or two days later, we typically call with results. So before it was some in person and some on the phone.
>> James Jacobson: Is it more difficult doing it on the phone?
>> Dr. Lori Cesario: I feel like part of the job is easier now that everything is on the phone, but there are still things that are obviously very difficult and maybe more difficult because of the phone. Because it's harder to explain things and you know, they can't see you and we've never met in person. So that part is very difficult.
>> James Jacobson: Do you find that people are, now that we're living in the times that we were living in–
>> Dr. Lori Cesario: Mmhm.
>> James Jacobson: Do you find that the news is more distressing and are they less likely to use a traditional standard of care regimen now than before?
>> Dr. Lori Cesario: I think that, although I don't have statistics, I think that people are more, yeah, financially stressed. And I do hear that people are having more difficulty choosing cancer treatment versus a palliative care option. You know, 'just keep them comfortable' because I've heard there's jobs stress. People have lost their jobs or they have numerous adult children living with them. So they have to feed their kids that they weren't paying for before. Plus also take care of their pets. So definitely I feel like there's more financial stress, which is limiting people's options more than it had before.
>> James Jacobson: And as an oncologist, your toolbox is pretty much focused on chemotherapy and radiation surgery, right? Mainly chemo.
>> Dr. Lori Cesario: Mmhm.
>> James Jacobson: So when that is sort of removed from the options for financial reasons, how are you able to help?
>> Dr. Lori Cesario: There is always a huge discussion about quality of life. You know, whether people decide to treat or not. So if they decide not to pursue proper cancer care, whether it be surgery or radiation or chemotherapy, then we just make sure that we focus very, very carefully on quality of life and palliative care and just really go through specifically, you know, what do we think the pet's quality of life is now. Get some sort of baseline.
And then what do we want to focus on to try and improve or make better? And it's hard because sometimes if you live with the dog, you see him or her every single day, you might not notice small incremental changes. Or you might just say, 'Oh, well he's older. This is what one might expect.' But you might not appreciate that, that slowing down could actually mean that the dog is significant pain and we actually have things that could really improve their quality of life. Especially if it's something like arthritis.
>> James Jacobson: Let's talk a little bit about some of the tools that are in your toolbox on the palliative side.
>> Dr. Lori Cesario: Yeah. So there's all sorts of pain medications that we can use depending on the health of their kidneys, etcetera. So there are–whether it's arthritis or a different sort of pain–like a nonsteroidal like Carprofen or Meloxicam. If their kidneys are healthy, Gabapentin can be very helpful. Sometimes we'll even use something like Amantadine. Aside from just regular pain medications, if we're talking about arthritis being the main problem, then there's acupuncture or cold laser treatments. There are even things that we can do, physical therapy wise, to build their muscle so that there's less pressure on their joints. There's Adequan injections that can really help decrease pain for dogs that have arthritis.
So there's actually a lot of things we can do. Make sure that a dog is a proper weight so that if they're regular weight or underweight, they're putting less pressure on their joints. So those are things that we typically think of.
Sometimes CBD oil can be helpful for dogs that have arthritis. There was a Cornell study that showed that it seemed to benefit some dogs. So there are actually quite a few things that we can do.
>> James Jacobson: So let's take some of those. What's the laser one? I hadn't heard of the cold laser?
>> Dr. Lori Cesario: Cold laser is something that's–
>> James Jacobson: Cold laser.
>> Dr. Lori Cesario: Yeah. That you would get more probably from an integrative medicine practitioner. And certainly I'm not an integrative medicine specialist. But I've worked with them before and they seem to find that it helps dogs that have arthritis–
>> James Jacobson: But we're talking about cancer. You mentioned a couple of things with arthritis was the linkage.
>> Dr. Lori Cesario: Yeah. The interesting thing is just that there are many situations where I see this happen all the time. Patients commonly come in and they're recently diagnosed with cancer. And maybe they recently had a mass removed. And the interesting thing is that obviously that brings up so many emotions and it's very, very scary. And so people are very worried about the pain that the dog might be experiencing from cancer. I would say in most cases, cancer is not painful, especially if it's been removed. We can definitely talk about cases where cancer is painful, especially bone cancer.
>> James Jacobson: Osteosarcoma.
>> Dr. Lori Cesario: What's interesting is that I feel like commonly, if a patient comes in and they're an older patient, people are very worried about the cancer that's been removed or even the skin mass that might be painful, which just absolutely isn't. But the dog has very severe arthritis that isn't being treated. So we can definitely do things that can improve the quality of life. It has nothing to do with the cancer because cancer is not limiting the quality of life. But the arthritis is, and there are five things that we can do to probably improve that dog's quality of life 80% within the week that can make a huge impact.
>> James Jacobson: Is that because so many of the dogs that have cancer that you're seeing are older dogs and therefore have arthritic pain?
>> Dr. Lori Cesario: Yes, exactly.
>> James Jacobson: So there's no direct linkage between cancer and arthritis.
>> Dr. Lori Cesario: Correct.
>> James Jacobson: It's just that they're older dogs and they get a little creaky as they get older. But that's the thing that the guardians are looking at and saying 'This seems like my dog's in pain.' But they're confusing it for the cancer
>> Dr. Lori Cesario: Or just, I think people associate cancer with being painful and nobody, obviously, wants their dog to be in pain.
>> James Jacobson: Okay this is fascinating. So a lot of what you look at in the palliative area is really related to arthritic pain and more picture, big picture. Okay. So what are those five things?
>> Dr. Lori Cesario: So for a dog with arthritis, I would say the easiest things that we can do are non-steroidal. If their organs are healthy, Gabapentin, that's something that's easy to do. Make sure they're getting enough walking. If they sort of go run around, that'll probably make them feel more painful. But nice, easy walking activity to build their muscles and reduce weight if they're overweight. So weight loss is probably number four and then something like Adequan injections that can really help with the joints. So that's five. Number six is probably acupuncture. Acupuncture can be very helpful. And then you can always try something like cold laser. But again, I'm not an integrated medicine specialist.
>> James Jacobson: No, but you know a lot and you seem to be more articulate in some of these things than most oncologists who I've encountered.
>> Dr. Lori Cesario: I just like to look at the whole dog instead of just the cancer because I think, you know, we always want our dogs to be as comfortable as possible and we want them to feel as good as possible for the time that we're here.
And it's important not to just be kind of laser focused on their cancer diagnosis. We have to look at everything together. There are definitely some cancers that can cause pain or cause nausea. And that definitely needs to be addressed. But we can't focus on cancer and ignore their really painful arthritis.
>> James Jacobson: That makes sense. Our focus has always been to help optimize the quality of life for dogs. But you did mention those three magic letters that people talk about so much. CBD. So tell me about your thoughts on CBD.
>> Dr. Lori Cesario: Yeah, I'm definitely not an expert on CBD, but I did attend a really educational webinar maybe a year and a half ago by a researcher at Auburn. I'm embarrassed that her name is slipping my mind right now, but I'll think of it.
>> James Jacobson: Send it to us and we'll include it in the show notes for today.
>> Dr. Lori Cesario: Okay, that sounds good. But she's actually done a ton of research. And the interesting thing about CBD is that, and yeah, I'm not an expert by any means. There are a lot of potentially beneficial compounds in these products.
However, if you buy a product on the shelf, every brand has to be considered like a different medicine. Because every strain of plant is going to have a different chemical composition. So if one person buys one brand that's made from particular strain of plant, they can't expect to have the same outcome from a different brand which has grown from a different strain of plant. Because it's basically taking two completely different types of medicine.
The other issue of course, is that it's a supplement and the supplement industry is not regulated. So you never know exactly what you're getting.
This person at Auburn, interestingly enough, has done a lot of studies looking at different brands of CBD oil. And she– actually, I don't know if she still does this–but she used to allow people to send samples of their dog's blood. Like, so you send the actual product that you're giving and you send a sample from like peak and trough levels. So when the active components are supposed to be at, you know, their most active versus maybe when your dog's due for the next dose, and then she actually analyzes the blood and can tell you 'Is there any actually going on in the blood or not?' She was doing that for free.
>> James Jacobson: Wow. That's very cool.
>> Dr. Lori Cesario: Yeah.
>> James Jacobson: So do you recommend CBD oil to your clients?
>> Dr. Lori Cesario: I feel like in California, 90% of the patients that I see are already on it. It's sort of like at the end of the consult, people are sort of beating around the bush about something. And I'm like, uh, 'Are you trying to ask me about CBD oil?' And the answer is always 'Yes.'
>> James Jacobson: Yes, California. You guys are lucky in Colorado and places like that, it's a little bit easier.
>> Dr. Lori Cesario: But most of them are already on it. I feel like, yeah. From a pain standpoint, it's worth trying. We don't necessarily have information. Although it might help with anything like cancer, we just–the information is just not there. We don't know. We also don't know if it interacts with other medications, which I think is difficult for us to, you know, to recommend it. And then of course there's like the legal implications for veterinarians recommending it, which is still an issue.
>> James Jacobson: Let's talk a little bit about the finances associated with cancer. We get so many questions from people who say, 'Oh, this is so expensive.'
>> Dr. Lori Cesario: Mmhm.
>> James Jacobson: What's the average cost of traditional standard care, meaning chemotherapy, in California? I'm sure it's a range.
>> Dr. Lori Cesario: Yeah. It varies widely on location, even within cities in California. Whether you're getting it at a private practice versus an academic facility. So I think if you're talking about injectable chemotherapy, each dose can vary from as much as maybe $400 to even like a thousand. Just depending on what you're getting. But I feel like most oncologists do a good job of giving people options. There typically isn't just 'This is your option.' There's you know–
>> James Jacobson: The menu.
>> Dr. Lori Cesario: Exactly.
>> James Jacobson: Yeah. But is there a range? I mean, the numbers that I usually hear, like five to $8,000 on average.
>> Dr. Lori Cesario: I think that's probably reasonable. Like some protocols involve giving an injectable drug every three weeks for six doses. And other protocols involve giving 16 treatments over 25 weeks. So it does vary quite a bit.
And then, sure. I mean, I would say most people can't afford those options. So then there's less expensive oral chemotherapy options, which for many types of cancers are still helpful and can be less expensive than injectable chemotherapy. So, yeah. For lots of cancers, if my clients can't afford injectable chemotherapy, then if a medication like Chlorambucil can be helpful. Well, then we typically get that compounded at a place called Stokes in New Jersey and the medication might be a hundred dollars for a month and a half. And then they have to come in for blood work. And that's something that we can do to help, but also as like a financial compromise, too.
>> James Jacobson: Talk a little bit about Chlorambucil. What is that? It's not something like Palladia, which is a pharmaceutical from a drug company.
>> Dr. Lori Cesario: Yeah. Palladia is, I guess I would consider maybe more potent chemotherapy. Chlorambucil we consider low dose oral chemotherapy that's meant to be given once a day at home by the client, pretty much indefinitely for as long as we feel is effective. And we'll use that for things like a low grade lymphoma or small cell lymphomas in cats. Or even mass tumors in dogs. That can still be helpful for people that can't do injectable chemotherapy or afford Palladia. So it has lots of different uses.
>> James Jacobson: Can you say it has to be formulated? Tell me what's that process and why.
>> Dr. Lori Cesario: The brand name is pretty expensive. So there is a brand name, Lupron and that is costly.
So what a lot of people wind up doing for various sized patients is: Stokes is a pretty reputable compounding pharmacy. They also compound for human medicine and that's in New Jersey. And they can formulate various sized capsules and tablets. So you do have to be careful with compounding pharmacies because some are better than others.
And you want to make sure that if you're asking for five milligrams that's actually what is in the capsule or tablet that you're getting, especially with chemotherapy. But Stokes is pretty reliable. So that's typically what I recommend using.
>> James Jacobson: That's fascinating. So is Lupron a veterinary drug or is it a human drug that's been imported? Okay. So it's a human drug, which is why it's more expensive. And so you found a creative way through this compounding pharmacy in New Jersey to craft an equivalency for pets that is specific to their size and weight. Got it. That is cool. Is that something that is commonplace among oncologists?
>> Dr. Lori Cesario: I think that when possible, we like to use brand name. But sometimes brand name is just not affordable for anyone. So then I think the decision is sort of easy. If you feel like you have a company pharmacy like Stokes that you can trust. And I've been using them for years and I haven't had a problem. So yeah, I think a lot of people use them. It's a great option for people.
>> James Jacobson: That sounds really interesting. Let's talk a little bit about the relationship that you as a specialist have with the primary vet.
>> Dr. Lori Cesario: Mmhm.
>> James Jacobson: So most people, I guess, discover their dog has cancer. They go to their regular vet and then they refer out to an oncologist. Right?
>> Dr. Lori Cesario: I would say it's either that or sometimes people are just doing their own research or Googling or they've had a pet with cancer before and they know that they have used an oncologist in the past. And so they already have a relationship, unfortunately. And so then they go straight to the oncologist.
>> James Jacobson: Does that happen frequently? Like what percentage of your clients come straight in without having been referred in?
>> Dr. Lori Cesario: It definitely happens less commonly. I would say probably less than, maybe less than 20% ish. But yeah, most of the time it's referred.
>> James Jacobson: Yeah. I can imagine like, you know, people who are really into Goldens, they know? Oh yeah.
>> Dr. Lori Cesario: Yeah.
>> James Jacobson: They know it's time to visit the oncologist.
>> Dr. Lori Cesario: Yes. For sure. It's hard as a general practitioner, I think because not only do you have to be very good at every specialty, but I think it's very hard because they–and this happens with us to a specialist–but oftentimes you make a diagnosis or you think something's going on and you make the recommendation to refer. And I think what happens sometimes is you get told no so many times, that in some cases you stop offering. So I think some people–I see this online, you know–some people will get upset that they weren't given the option to be referred to a specialist. But I think it's important that as a pet parent, you are very clear with your vet how aggressive you want to be. Because 90% of the people out there are not going to seek specialist care. And whether that's financial reasons or otherwise. So if you feel strongly and you tell your vet that you're willing to take off work for a specialist appointment, you're willing to drive three hours if that takes to get a specialist, you're willing to really invest in specialist care. If that's what it takes, or you have pet insurance and you can do that, then you make that abundantly clear. Because if they know how motivated you are, then you're more likely to get the referral to the specialist.
>> James Jacobson: So much of the cost of treating a dog with cancer seems to be tests. It seems like, 'Oh my God, we needed some other tests and another test another test, and another test.' Can you address that?
>> Dr. Lori Cesario: Yeah, the tests definitely do add up because often, especially with cancer care, we do the tests to make the diagnosis typically once. But then in order to figure out, 'okay, is what I'm doing working. Are we still on the right track?' then you have to continue to follow up with the monitoring tests. So if we have a dog that has osteosarcoma, for example, that's the type of cancer that likes to spread to the lungs. Well, the only way that we know that it's not in the lungs or if our chemo is working is by taking chest X rays every three months. So taking those tests x-rays definitely adds up. Or if we have a cancer that can spread to the liver or the spleen, then we like to do abdominal ultrasound. So, yeah, the diagnostic tests do add up. But I guess part of it is that the price of the equipment is also expensive. And often these are at specialist facilities and it is expensive to keep them open 24 hours a day. So just all of those things, unfortunately add up very quickly, which is why I always feel like pet insurance is such a good investment.
>> James Jacobson: Talk about that. Because I think that seems to be a really interesting point. So if you have insurance, most of this is covered.
>> Dr. Lori Cesario: Yep. There are just very good pet insurance plans these days. You know, a decade ago, two decades ago, they weren't great and they didn't cover much. But these days, from my patients, I know they can honestly make the difference between life or death. For sure. There are a lot of great companies out there and they don't have a maximum payout. So there are literally patients that are getting 30, $40,000 worth of care paid out from their insurance company. And having a dog diagnosed with cancer is just so stressful enough. Just the emotional aspect of it, having the financial component, just sort of taking care of and not having to worry about that, I just think is a huge relief for people.
So, yeah, not to name drop, and they're not paying me, obviously. but like Trupanion, for example, they'll cover 90% of the bill. They don't pay for preexisting conditions. That's the big thing. Most don't. And they don't cover exam fees, I don't think, but they'll cover chemo. They'll cover radiation. A lot of companies will. They'll cover expensive surgeries. Yeah. It's just such a good investment.
>> James Jacobson: Awesome. So I know that you have moved outside of the practice to do some stuff on the internet to share your information. You have the Canine Cancer Academy. What is that?
>> Dr. Lori Cesario: Yes. So when people get a diagnosis of cancer, they need and want reliable information. Even if they want to make an oncologist appointment, they might have to wait a week for that or two weeks for that. So in the interim, there's often a lot of Google searching. So I wanted to make sure that they had a reliable resource online. And so I developed the Canine Cancer Academy. It's basically an online company that provides educational tools for people that have a dog diagnosed with cancer.
So we have over 60 free articles on different types of cancer. Diagnosing cancer. Quality of life is a big focus. And then there's also the Dog Cancer Roadmap, which is basically an A to Z guide for navigating a dot cancer diagnosis. It's an online course made of bite-size videos that are not overwhelming. And I tried to make it as comprehensive as possible. To cover anything that someone would want to know if their dog is diagnosed.
And some people feel like they've made mistakes with the dog that was previously diagnosed with cancer. And they know how common cancer is in dogs and they want to do a better job if that happens again. So I've even had people want to go through the course for that purpose too.
>> James Jacobson: Sort of after they've been through it, just to see how they could have done it differently.
>> Dr. Lori Cesario: Exactly. Yeah.
>> James Jacobson: Okay. Well, we'll put links to that in the show notes for today's episode. Thank you so much for being with us. I really appreciate it.
>> Dr. Lori Cesario: Thank you for having me. I had a really good time.
SUBSCRIBE ON YOUR FAVORITE PLATFORM