Erica Ancier, DVM, CVA, CCRP
Erica Ancier's Credentials
Certified Canine Rehabilitation Practitioner (CCRP), University of Tennessee, Knoxville
Certificate of Veterinary Acupuncture (CVA), Chi Institute
Doctorate in Veterinary Medicine, Western University of Health Sciences
Bachelor, University of California Santa Barbara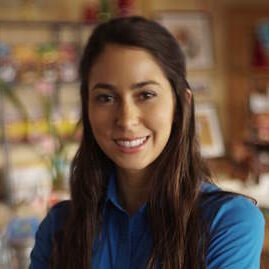 Dr. Ancier grew up in Southern California where she completed her undergraduate studies at UCSB. She graduated with honors from Western University of Health Sciences where she received her Doctorate in Veterinary Medicine. Her clinical training was focused on rehabilitation and sports medicine for both small animals and horses. While in vet school, she was the national student president of the American Holistic Veterinary Medical Association, which allowed her to learn about a wide range of emerging holistic modalities from some of the leaders in the field.
Dr. Ancier obtained her veterinary acupuncture certification (CVA) from the Chi Institute in Florida and the Certified Canine Rehabilitation Practitioner (CCRP) Certification from the University of Tennessee. Both in veterinary school and at Holistic Veterinary Care, Dr. Ancier utilizes holistic medicine as part of an integrative approach towards optimal animal wellness and healing.
She lives in the Bay Area with her husband Kayvon and their small fur family consisting of their dog "Hannah" and horse "Red". When not at the clinic, Erica enjoys practicing yoga, riding her horse, and exploring all of the beautiful nature that the Bay Area has to offer.